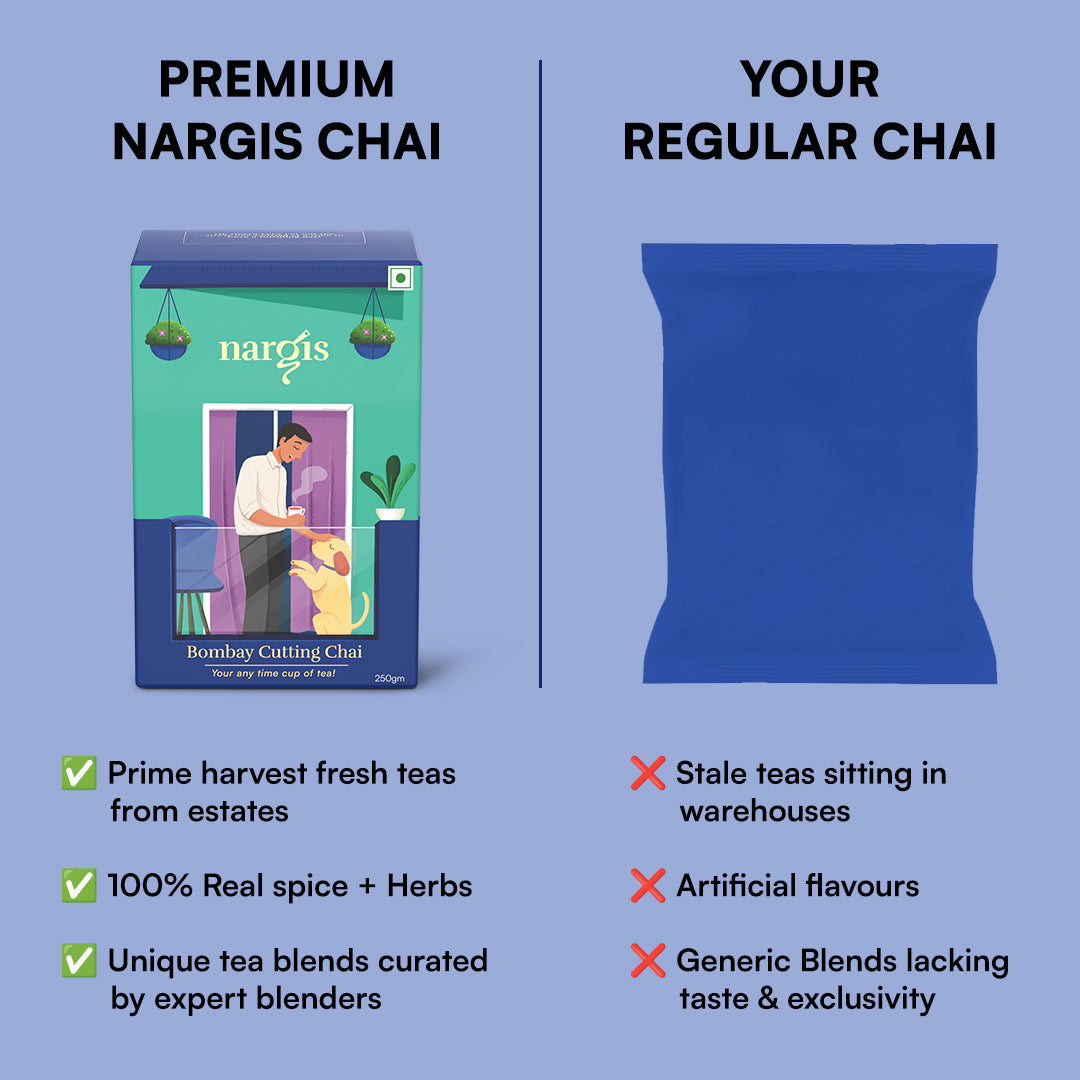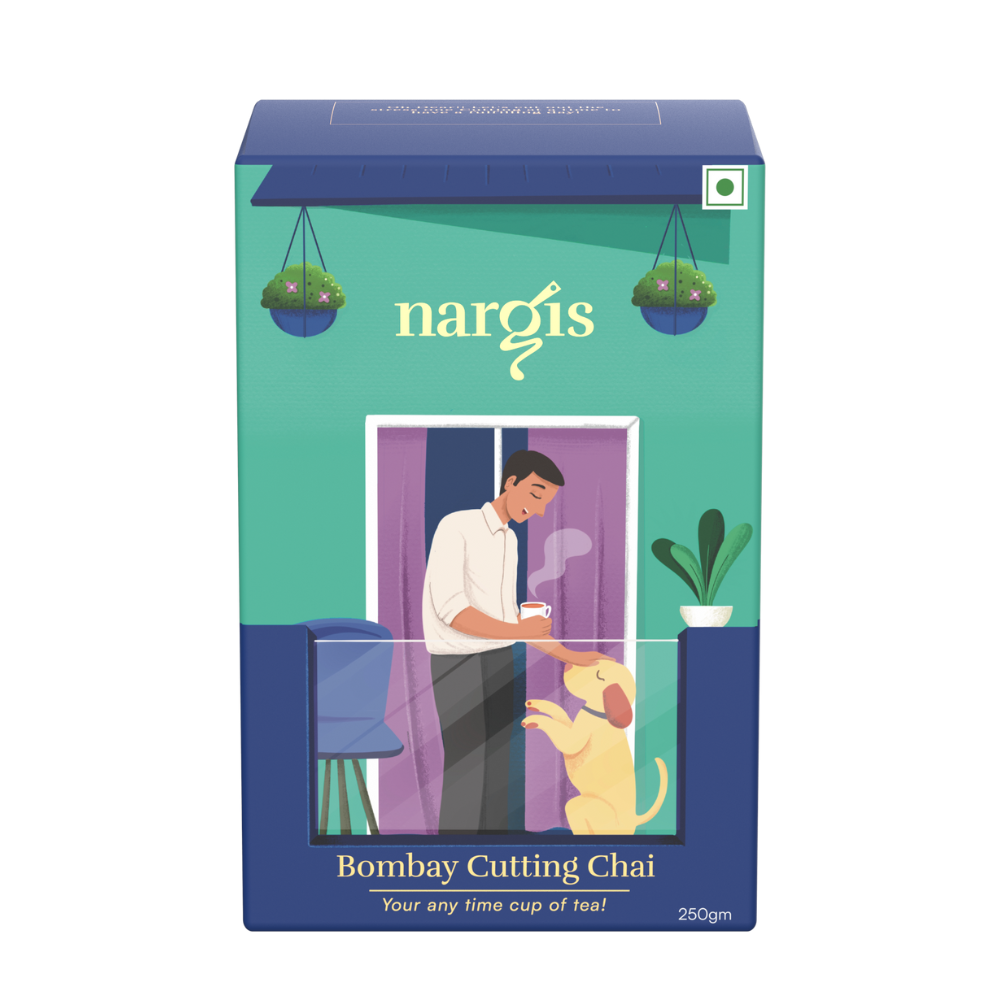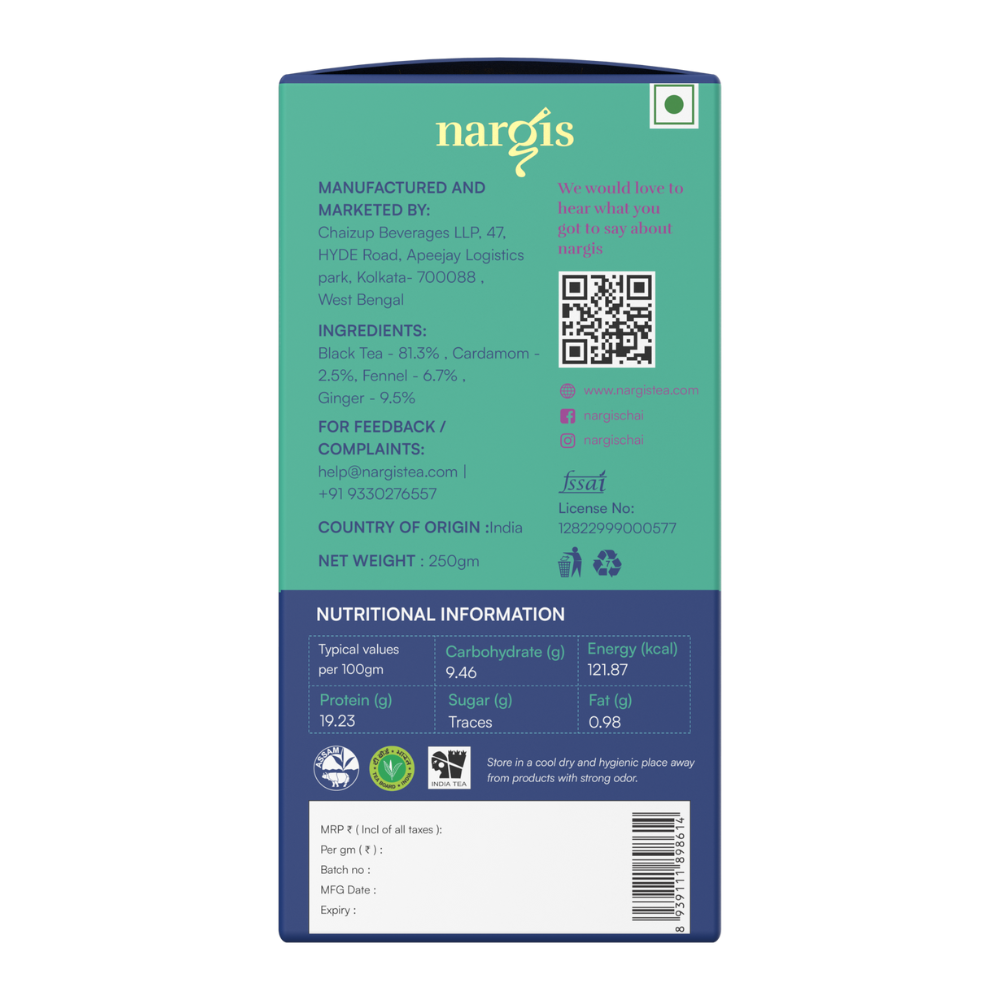 Translation missing: en.products.product.price.regular_price
₹ 489.00
Translation missing: en.products.product.price.sale_price
₹ 489.00
Translation missing: en.products.product.price.regular_price
( Inclusive of all Taxes )
This is a Vegetarian product
🔥 10% OFF for orders above ₹799/-

Shop for above ₹799/- and get extra 10% discount on your order
Estimated Delivery:Sep 30 - Oct 04

Free Shipping & Returns on all online payments. COD is available against a small fee
Product description
Details
How to make
A special curation from the streets of Bombay, Bombay cutting chai is our take on the cutting chai found in every nook & corner of Mumbai. It is made by blending strong Assam CTC with the finest Indian spices such as cardamom, ginger, and sweet fennel seeds.
Tea Strength: ⭐⭐⭐⭐
Leaf Format: Loose CTC tea ( small rounded granules ) blended with dry cardamom, ginger & fennel seeds
Granule Size: Medium granules. It gives a balanced taste & flavour of the spices.
Best Time to Have: Throughout the day
Where It's Made: Our teas are manufactured in Assam, India.
STEP 1 : Bring 100ml of filtered water to boil in a pan
STEP 2 : Add a spoon ( around 2.5 gms) of tea leaves and let it simmer for 2 minutes
STEP 3 : Add milk & sugar to the pan as per taste and preference
STEP 4: Simmer for another 2-3 minutes and take the chai to a final boil
STEP 5 : Strain the chai and enjoy a refreshing experience
Freshly Handpicked
Experience our enchanting Chai range, where every sip takes you on a journey to the tea gardens. Sourced from the best quality, prime harvest leaves to give rich flavour and exquisite aromas. Each blend  promises a unique & delightful experience.
is this CTC tea ?
Yes. CTC tea is a processing method where freshly hand plucked leaves are transformed into hard rounded granules
How to consume this tea ?
CTC teas are best consumed by boiling them & simmering it with milk & sugar
Whats the packaging ?
Our 250gm & 500gm variants come in monoboxes with food grade aluminium foil packaging. Our 1kg variant comes in food grade stand up pouch with zipper seal
Where is this tea produced ?
This tea comes from the lush gardens of Assam.
How is it different than other market tea ?
Due to average quality of other market teas, even 2-3 teaspoons of tea leaves imparts very ordinary taste and colour.
Our tea goes through a stringent quality process and reaches you much fresher. Even a spoonful of tea leaves gives a rich, bright and bold cup
When is my order shipped ?
We ship your item within 24hours of the order being placed, except on business holidays, in which case it is shipped on the next working day.
What are the shipping rates ?
We offer free shipping on all prepaid orders. For COD orders we charge a small fee depending on the weight of the package.
Really stress releaving and a mood elevator!!
MY go to Chai these days!! Cant do without 2 cups of chai per day!!
Awesome Nargis
It's really a great taste, fresh the mood superbly & immidiatly.....!!
Rich taste and unique flavour
I have tried many of tea including Darjeeling tea but this Nargis tea flavour and taste is so rich that i can feel the richness clearly. Really a fantastic taste. Love this.
This quality at this price ... woohoo
I absolutely loved your chai. Of course, it also came at a time when I watched a few videos and learnt how to make tapri chai well but still, I think you have given great value for money.